NATURE'S SWAY
Testimonials
I have known Michael for over 20 years. During that time my family and I have found that consulting Michael and taking the bespoke herbal formulas that he designs and adapts as necessary for us individually, has been of immeasurable benefit in both subtle and obvious ways. For example, my Father decided against taking a conventional route to treating a large swelling in his neck. It took about a year of strictly adhering to the recommendations and applications made by Michael but it was well worth it; the swelling gradually disappeared and has never returned.
Personally, I feel that the herbs I take daily are a most valued and unique way of supporting, respecting and honouring my well-being. Currently, Michael is helping me through a challenging time in my life; I am both comforted and guided as he encourages me to explore alternative perspectives and opportunities.
In my experience, Michael offers a complete and essential service – he is both luminously wise and compassionate.
I am writing to commend Mr Michael Brookman and his Mendip Natural Healing Centre (now Nature's Sway). For the past ten years his has been the sole source of treatment for my son Benjamin, who is profoundly ill having suffered brain damage 18 years ago. The medical profession gave up hope for Benjamin many years ago and my wife and I are of the firm belief that Benjamin's continued survival and well being are very largely due to the outstanding treatment, advice and help of Mr Brookman. We are and always will be eternally grateful to him.
Dear Dr Bri….., I am writing to you in response to your request for (information about) natural remedies. I suffer from Endometriosis and the only help the doctors could give was a hysterectomy or a false menopause caused by drugs. I was really unhappy about the thought of drugs and their side-effects, but the pain and misery was so bad that I nearly put the prescription into the chemist. Before doing so I rang Michael Brookman who has been my herbalist for over two years. He recommended a special herbal formulation, I already take another of his products and he felt the combination of the two would help my symptoms by improving my circulation which he said caused the terrible pain. I have been taking it since May and the effects have been dramatic. Every period since has been pain free and I have been able to continue with life rather than lose two days doubled up in agony. I have written to the Daily Mail before in the hope of helping other women, but my letter was not printed. The herbs really do work, it's even on my doctors notes and I know that if I had read about them I would want to try them.
In the month I have been taking your herbs the following improvements have been noticed.
1. My bowels have improved 100% since being damaged by antibiotics four years ago.
2. My skin, which has been very dry on my extremities for years now, looks and feels like skin instead of sandpaper.
3. My menstrual cycle has returned almost to normal.
4. My hearing has improved – I suffer with an excessive wax problem.
5. My energy level has increased and I sleep very well now.
6. My 'grey cloud' has lifted and I have a general sense of well being.
All this after just over a month – I find it unbelievable !!
I have recommended your herbs to a lot of people who like me have felt generally under par and I just hope they try them for their sakes !!
The regular use of herbs as we have witnessed for many years. Not only do all conditions respond to this form of nourishment, but longevity is affected too. Dogs kept regularly on our herbs have lived extended, active lives up to nineteen years old. We offer prepared, powdered products for the re-activation of various parts and functions of the body and special liquid formulations for individual and urgent need.
Our doggy history started some years ago when the Bristol Western Daily Press included an article about Lesley Wells' Golden Labrador, Tommy, living on the Channel Island of Alderney, who had arthritis and cancer, took a course of herbs from us and regained his mobility and wellness and continued an active and mobile life for another two years. He outlived all the other members of his former litter!
The Daily Mail, impressed by our herbal stories, proclaimed 'Herbs saved my Dogs'. Pamela Collings' two Boxers had been suffering from Cancer and Arthritis. "Things started to improve very quickly. Poppy is well and happy – our vet is stunned. Rosie is playful instead of being depressed. We are absolutely delighted," she reported.
Pamela Collings was so excited by our herbs that she became our regular ambassador and recommended many other dog owners to try our herbs on their dogs.
Jess, our beloved first home bred border collie, was diagnosed April 2016, at three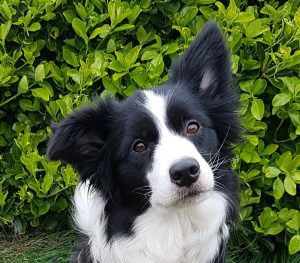 years old, with lymphoma. We were obviously devastated. Our vets and Liverpool veterinary hospital gave her 10 to 12 weeks life expectancy unless we gave her chemotherapy. We did lots of our own research and soul searching and decided we'd rather she had a good quality of life for the short time she had, rather than poison her whole system. The vets said chemo could 'possibly' extend her life by a few months.
Meanwhile, a friend of a friend recommended we support her system with herbs, which fitted extremely well with our thinking, and pointed us in the direction of Michael at Nature's Sway.
We haven't looked back and as of January 2018 (and still further at March 2021), Jess is fighting fit and showing no further signs of lymphoma. We hope and pray she stays this way for a long time to come.
Ang Ross – Bordaquest border collies.
Contact us by phone: 01364 644 684 or email: michael@natures-sway.co.uk