NATURE'S SWAY
Products for Animals
Our list of products is not large. All are our own unique formulations/combinations of herbs which are more effective, more encompassing and safer to use on a continuous basis, than single products, and which may be used alongside any drug treatments you feel obliged to administer. Particularly, our products help to reduce the toxic effect of any drugs being given.
Remember, we are always happy to explore things with you before you make a purchase.
Phone 01364 644 684 or email: michael@natures-sway.co.uk
Liquid mixtures are more concentrated. The encapsulated and loose powdered products are designed to work alongside the liquids for optimum effect, particularly in urgent situations, or, such as the Nature's Sway Original capsules and the loose powder, they are excellent for use on their own, regenerating, protecting and maintaining health long term.
Millie, our little dog we rescued on the streets of Southern Spain pictured here at fifteen years old and was still in wonderful health.
Our products are the result of many decades of experience.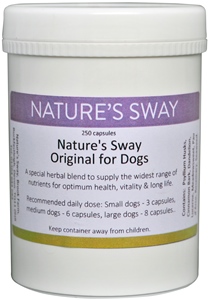 250 grams packs £18.00 inc.
450 grams packs £29.90 inc.
2 x 450 grams packs £57.50 inc.
Also Nature's Sway Original in capsules,
100 capsules £21.00 inc.
250 capsules £37.00 inc.
500 capsules £58.27 inc.
Nature's Sway for dogs and other animals.
Why should animals EVER be ill?
The proven solution . . . genuine (organic) natural diet and special combinations of herbs.
Can you imagine rearing cats, dogs, chickens and goats for nearly 60 years with hardly a time when a vet was required for a health problem – we did it – and still do. Millie, a beautiful real character, rescued off the street in Spain as a puppy with an uncertain health background, nevertheless lived well without any health problems for fifteen years. Her soft shiny coat had to be seen to be believed.
Nature's Sway health products contribute to all round fitness & longevity that people (& vets) find quite amazing; like 13 yrs old Magnum who walked 52 miles across the Yorkshire Dales in four days and Max (the vet said the only kind thing was to put him down) but who lived actively and healthily, four years after being diagnosed with a brain tumour, to reach nearly nineteen years old!!
We have a special product, in powder form, to add to food :- Nature's Sway Original.
Original is for general well-being, and longevity, encompassing support particularly for the digestive, urinary and immune systems, for mobility and for skin and coat.
And we offer special liquid herbal mixtures for every condition under the sun!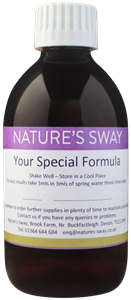 150mls £33.90
300mls £51.25
(300mls lasts one to two months
according to size of dog)
Nature's Sway – Special Dog Mixture
Herbs have been used in actually healing humans and animals for countless centuries – quite literally for thousands of years.
Being a third generation herbalist, living in Somerset, I had previously witnessed the amazing healing of many, many people over the years, initially by the famous Mr F C Carr and then by his successor, my father, Mr Ivor Brookman.
Years ago now, a close friend living on the island of Alderney, had a lovely dog named Tommy, dying of cancer and crippled with arthritis. He asked me to try to help with herbs and, after a few months regular use of these herbs, Tommy became active and well, once again bouncing up into the back of the car. He lived for another two years and outlived all the former members of his litter. It was Lesley, his owner, whose idea it was to offer herbs for dogs, and over the years I have been associated with several hundred, quite a number of which had been given literally days and weeks to live, and who survived often for several years.
So from personal experience I know herbs can promote healing.
I formulate liquid mixtures according to the individual need, and in respect of any condition, and any age. The herbs used have a special ability to nourish the body, in support of the organic healing process, and are designed to promote the well-being of the sick part and of the whole system, both being interdependent. This is the only method by which lasting healing can take place.
It is most important to note that comprehensive, lasting healing is a gradual process that takes time and commitment. The speed of process is entirely dependent upon how sick the body is, one can never compare one body (human or animal) with another. And, please do not confuse the use and effect of drugs and anti-biotics with the actual living process of healing.
Nevertheless, in the long run the committed use of the herbs will prove the infinitely cheaper.
Finally, it is important to consider how your animal became sick.It did not happen by chance. Principally it is vitally important to look at what food products are being used. Reliably natural food products incorporated with fresh, preferably organic, foods should be used in the long term. The healthiest water is NOT out of the tap.